How Will Closet Factory Support Me?
A comprehensive training and support platform that never stops
When you make the decision to invest in a Closet Factory franchise, you join a brand that will support you from that day forward. You will join one of the most innovative, forward-thinking franchise systems which has more than three decades of overwhelming success in the business.
This matters. In addition to being one of the most successful franchisors in the home organization industry with more than 80 territories and a proven track record of helping entrepreneurs thrive, Closet Factory is in the same business you are in. Our flagship location in Los Angeles is our corporately owned location, and we run it just like our franchisees run their businesses using the same proven methods and best practices that have made us a nationally respected brand.
"We have skin in the game," says Kathryn La Barbera, Co-President of Closet Factory. "We are in the same business our franchisees are in, and this gives a level of experience most franchisors do not have. We are also able to innovate and explore new opportunities before we roll out new initiatives to our franchise network, in order to be certain that they will work. Most importantly, we are able to provide a training platform that is based on day-to-day experience and help new franchisees become established and maximize profitability going forward."
What does our training platform involve?
Closet Factory offers training that is unmatched in the industry and completely tailored for your success. Newly awarded franchisees will take part in a six-week (two in Los Angeles and four at your facility) training program, which is exclusive to Closet Factory and will help you set up your factory and train your operations, production, installation and sales staff. Special emphasis is placed on sales, management, manufacturing, software and daily operations, so you have the training you need to achieve financial success.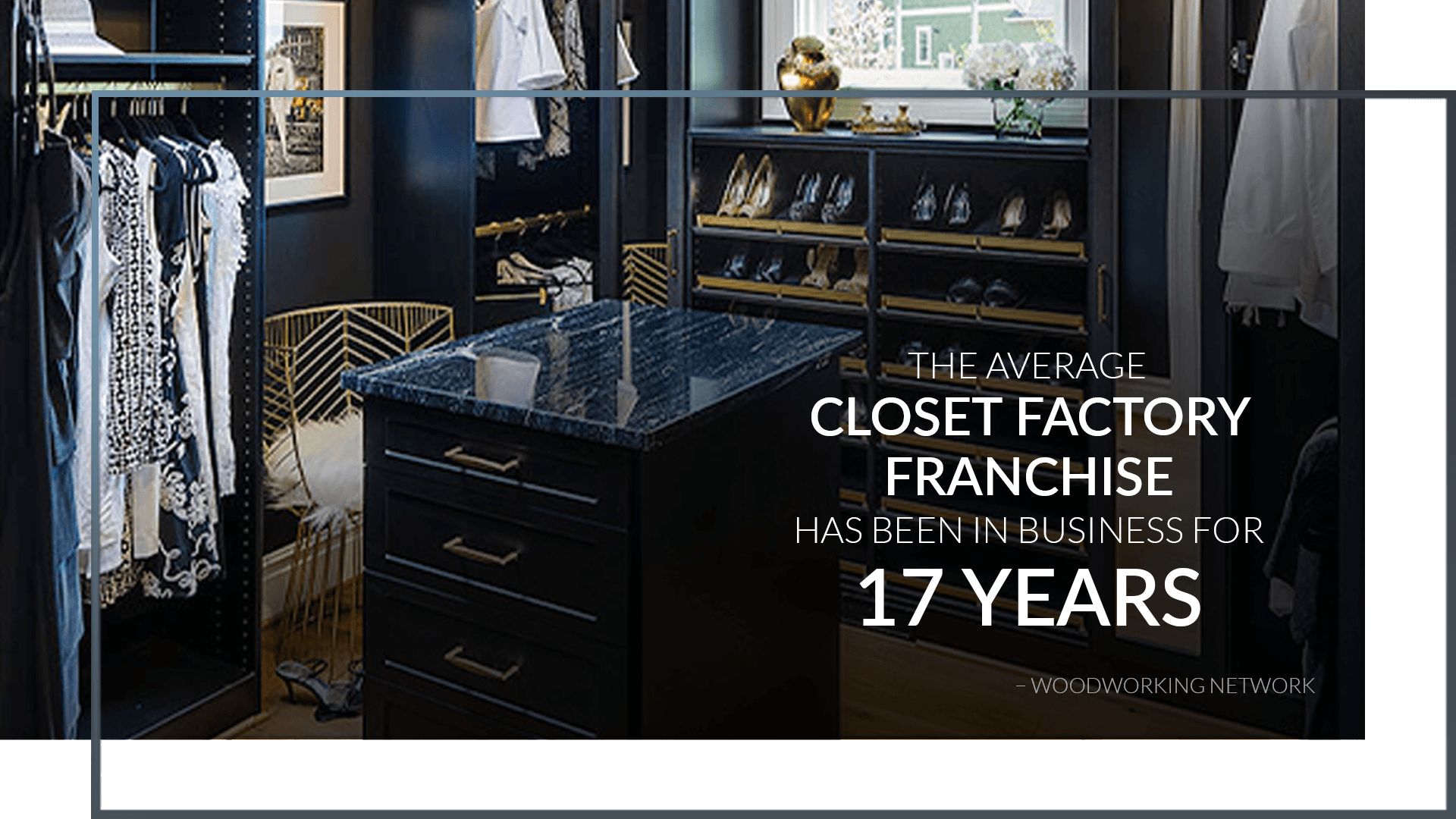 Our franchise team, located at our corporate headquarters in Los Angeles, is always available to provide ongoing support in all areas of your business. Additionally, you have the added support of our entire franchise network, so no matter what the issue, someone is always on hand to provide the right support and solutions. Our proprietary software tracks every aspect of the business for you and our on-demand tools (online Academy, department manuals, planning tools, one-on-ones, etc.) provide that additional support and training to help you succeed.
We also provide ongoing marketing solutions that are unparalleled in the industry. In fact, our corporate team has a dedicated team of marketing professionals that will act as your in-house marketing agency. We will establish your entire digital presence, from your localized website to your targeted Pay-Per-Click advertising, and we will help you build your social media presence. In addition, we will provide any marketing materials you need going forward – all you have to do is make a call.
"We know that our franchisees aren't marketing experts," says Debbie Dykes, Creative Director with Closet Factory. "We are here to fill that role for them in order to build an effective marketing strategy that will work in their specific markets."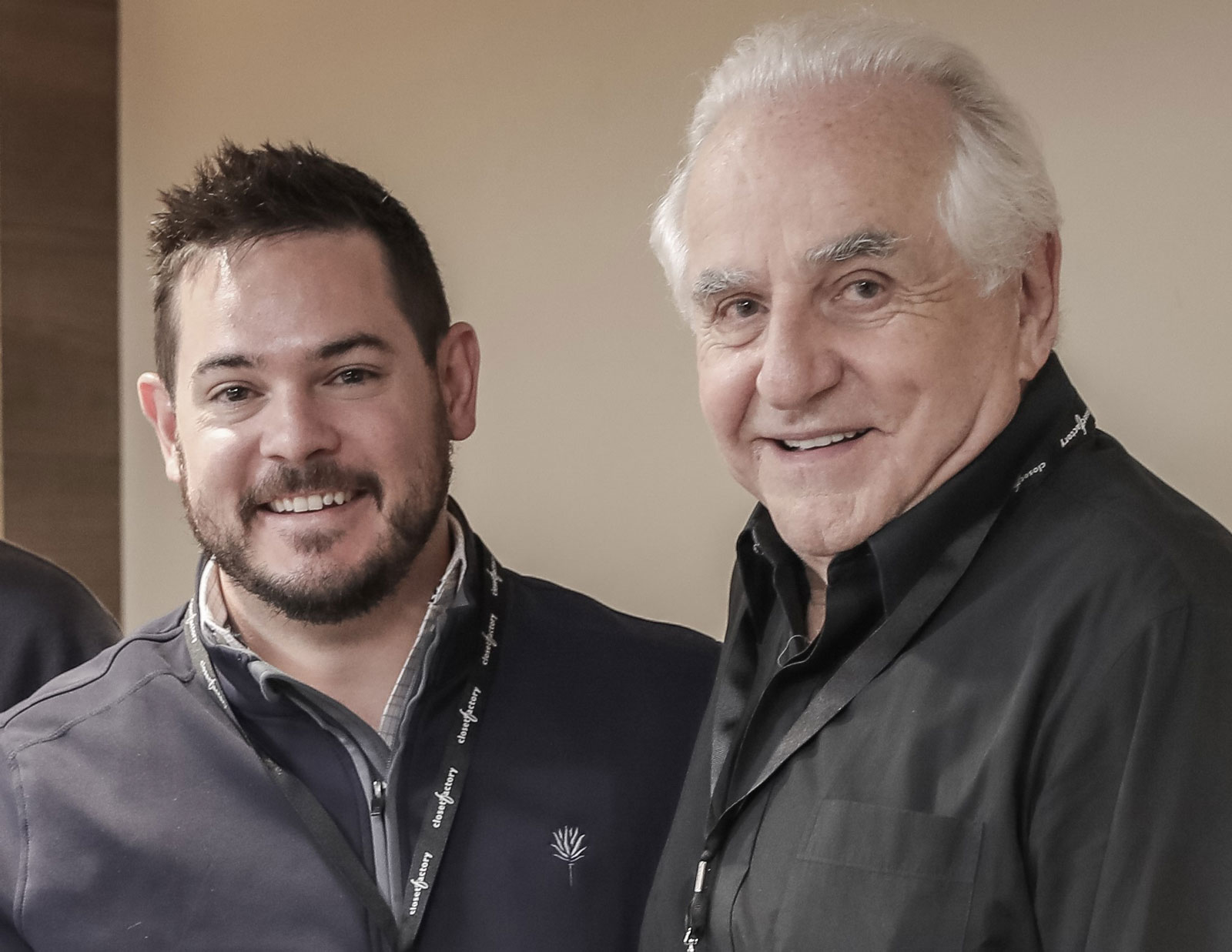 Our support doesn't end after your Grand Opening
One of the best reasons to invest in a Closet Factory is the fact our support doesn't end when your initial round of training is completed. We pride ourselves on being one of the most family-oriented franchise systems in the industry, and we'll actively work with you on an ongoing basis to help your business thrive.
We'll provide continual coaching to help you meet your sales goals, we'll continue to roll out new and exciting designs to help increase your profitability, leverage our buying power to keep your ongoing costs as low as possible, and be on-hand to answer questions or troubleshoot any issues as they arise.
Additionally, your fellow franchisees will also serve as your mentors, guides and friends in order to help your business thrive. This level of camaraderie is rare in the franchise industry, and the access to so many knowledgeable franchisees who know exactly what you are experiencing will help your business flourish over the long term.
Ready to experience outstanding Closet Factory Franchise Support?
Ready to learn more? Download our franchise report to start a conversation! We look forward to hearing from you.