Next Steps
Ready to invest in the leading closet storage franchise?
Once you submit your information, you will receive an email with a link to the free Closet Factory franchise information report which will give you details about our brand as well as the requirements for franchising with us. A member of the Closet Factory franchising staff will reach out to you by phone. The first call gives us a chance to introduce ourselves to one another and address initial questions. Then we'll move forward with a review of our Franchise Disclosure Document which will allow you to gain a deeper insight into our franchise opportunity, including startup costs, support and more, as well as give you the opportunity to ask questions about the Closet Factory business. We then give you the opportunity to do your due diligence by interviewing Closet Factory franchisees. Following this, we invite you to come to meet us at our headquarters in Los Angeles, California, where we can get to know each other better and give you another opportunity to ask questions of our leadership team.
Once we determine that you are financially qualified and that you're a good fit for the Closet Factory franchise opportunity, you'll sign a Franchise Agreement and hit the ground running! We'll schedule your two-week training session at our headquarters in Los Angeles,  where you'll learn how to thrive in our business model, including how to sell our products, use our proprietary software, understand the manufacturing equipment, recruit and retain talented salespeople and more. After you leave our training, we will send one of our team members to your location to train your first group of salespeople and ensure that your business gets off to a strong start.
From the time you sign a franchise agreement with Closet Factory, we estimate that your location can be open in a matter of months after completing the first round of training.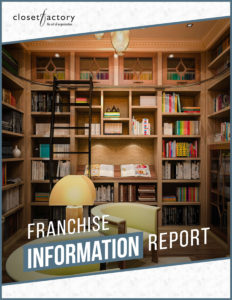 To get started, please download our Franchise Information Report, which includes detailed information about the Closet Factory franchise opportunity.
The report includes our detailed Franchise Disclosure Document Item 7, outlining startup costs and terms, as well as a detailed look into our training platform, business model, executive team and more!
We will email you a report and follow up with a short conversation to answer any questions you have. Thank you in advance for your interest in owning a Closet Factory franchise.
We are looking forward to hearing from you and are excited that you are interested in the industry-leading custom closet franchise. We hope we can help you realize your own dreams of successful business ownership.
Ready to open a Closet Factory?
Ready to learn more about owning a closet storage franchise? Download our franchise report to start a conversation! We look forward to hearing from you.