What Do Our Franchisees Have to Say?
Closet Factory franchisees open up about what they love about their businesses
When entrepreneurs join Closet Factory, they become a part of an elite group of business owners who collaborate, mentor and support each other. This family-like culture is rare in the franchising industry, and even more importantly the relationships our franchisees build with each other make our brand successful.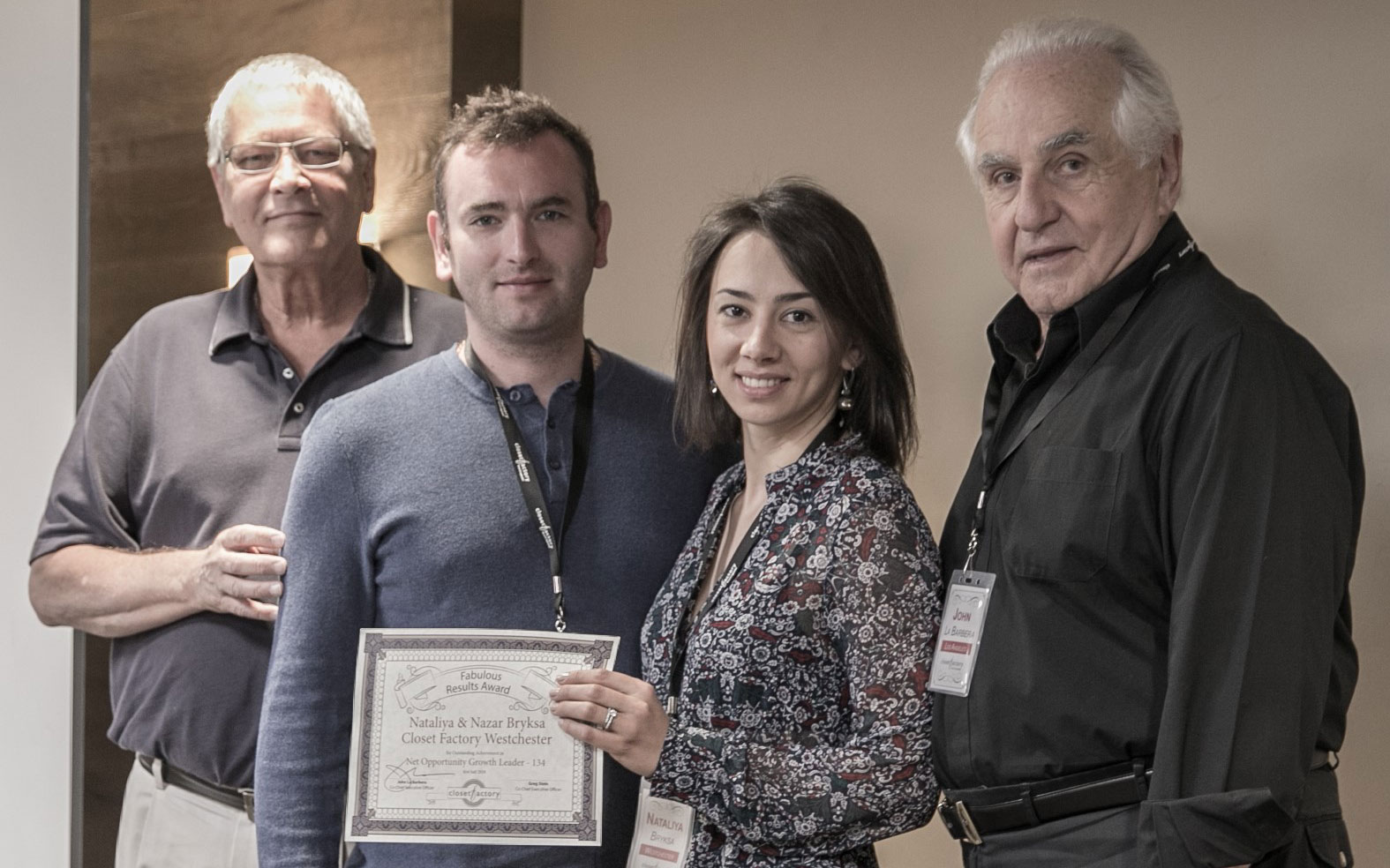 Closet Factory has been in business for more than 40+ years, and in that time, we have helped dozens of entrepreneurs realize their dreams of business ownership, exceed their goals and create a brighter future for themselves and their families. Our franchisees often come to us with zero experience in the home organization industry, and the entirety of our franchise network, both our corporate office and franchisees alike, work together to help each other thrive. We know that without our franchisees, Closet Factory would not be as large as it is today, so we work hard to deliver value to our franchisees day-in and day-out.
Our efforts have paid off enormously. The average Closet Factory franchise owner has been in business for more than 17 years. This is a testament to the fact that their businesses continue to flourish and that there is a lot of enjoyment to be had in joining our brand.
This is what our franchisees have to say about why they love their businesses:
"I lead a blessed life. When we opened our business in 1992, we made a sale the very first day and we have been able to grow ever since. Since we started, we have helped over 70,000 people, and last year alone, we did 160 installations every month. It is a great business; it is not a fad. There is a need for storage solutions that really help people, and we are so versatile in what we can do. There are so many opportunities to grow your business. The sky is the limit."
-Mark Lestikow, Owner of a Closet Factory
"First and foremost, the market is growing. The home-organization industry is growing every year and that won't slow down anytime soon. With Closet Factory, the infrastructure is there, the support is stellar, the operating platform is state-of-the-art, and it helps you run your business and grow revenue. Most importantly, the franchise owners are there to support you. This is what makes Closet Factory really special. What the leadership has done by putting together a group of franchisees who succeed on their own and with each other, who work well together, really helps you in this business – especially when you are new. We are an added layer of support."
-Steve Newman, Owner of a Closet Factory in Florida
"The thing I like about most Closet Factory is the people. The money has been good, the opportunity to own my own business has been very rewarding, but it is the friendships I have made that matter to me most. The demand never seems to end, and it is incredibly rewarding to help people by doing the job that you promised to do. If you are going to invest in this business you have to have a passion to be successful. You have to have fire in your belly. It is very important to have that level of energy and intensity. You have a support network around you that makes it easier. You do not have to have a sales or construction background or have an MBA to be successful, you have the support of a brand that is getting stronger every day behind you."
-Jeff Bruzzesi, Owner of a Closet Factory in Virginia
"As someone who has installed our services everywhere I have lived, I believe that Closet Factory really has the best product. We are in a very unique niche. In a really good economy, our customers come to us for luxury solutions for their home offices or entertainment centers. When the economy is slow, we are a necessity because people cannot afford to buy bigger homes. We always ask, 'How do we make your life easier? How do we make your morning easier?' We really spend the time and energy to build a relationship with the client because the first project is a prelude to future projects. This is a great business to own in any economy."
-Dave Rosenberg, Owner of a Closet Factory in California
Now that you've seen our Closet Factory franchise reviews, are you ready to open a home organization franchise with us?
What did you think of our Closet Factory franchise reviews? Ready to learn more? Download our franchise report to start a conversation! We look forward to hearing from you.