Closet Factory's Exclusive Partnership with Costco Benefits Franchisees
Brand recognition, trust and sales are boosted by iconic custom home organization franchise's partnership with Costco
Owning a Closet Factory franchise means you benefit from being part of a booming industry as well as reap the rewards of our exclusive vendor partnership with Costco, the third largest big-box retail chain in the nation. Costco has a rigorous vetting process for vendors so when the millions of Costco members see Closet Factory kiosks from qualified franchisees in many of the 500 plus Costco locations nationwide, it builds brand recognition and trust.
Since our founding in 1983, Closet Factory has helped hundreds of thousands of homeowners enjoy their spaces more by providing organization solutions that are specific to their needs. Our expansive product line, exceptional quality of materials, innovative designs and first-rate customer service experience make us the leader of the $11.8 billion home organization industry.
"We work very hard to make sure that our customers are 100% satisfied with our product," says Jeff Bruzzesi, owner of a Closet Factory franchise in Virginia Beach, Virginia. "We are very conscious of the end game — one client doesn't just mean one job. If we do the first job correctly, that one job will turn into multiple jobs in the future, and it will lead to that customer referring us to their own social networks. As a business owner, you think: 'How many people will need us?' But the demand never seems to end."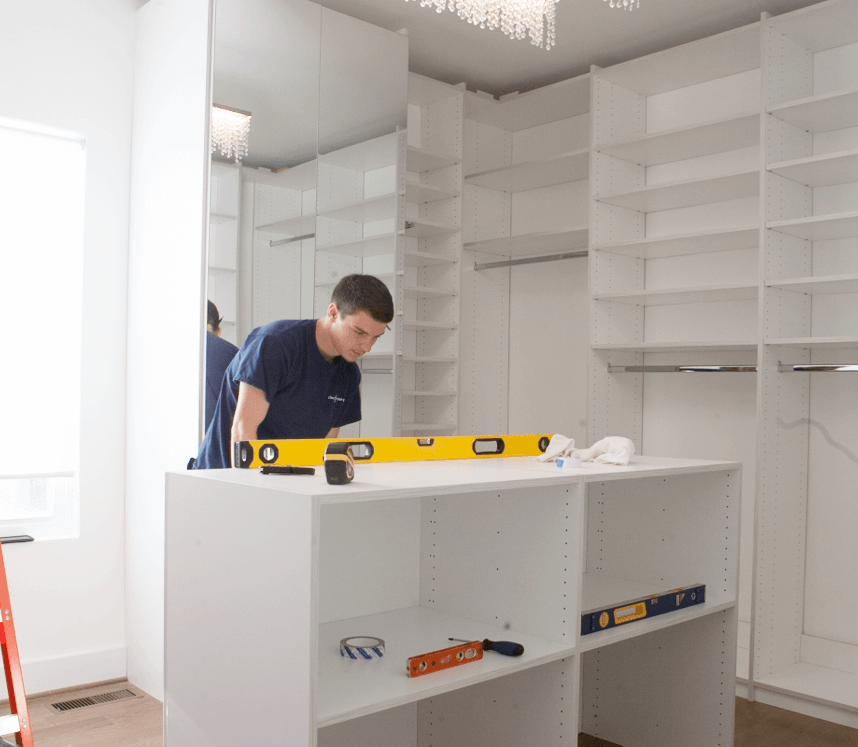 Closet Factory provides value to both customers and franchisees
Because of our focus on customer satisfaction, it's not uncommon for customers to call us back again and again as they seek to add value to their homes and their lives. And because we offer multiple products for every room in the home, from man caves to laundry room, the potential for repeat business with homeowners is high. We offer far more than our competitors, with options ranging from melamine material to custom stained or painted wood, to meet our customers' wide-ranging tastes, needs and budget. We deliver even further value with our lifetime guarantee, which creates accountability and trust.
Just as we strive to add value to our customers' lives, we work hard to deliver value to our franchisees and many in our network are longtime owners — the average Closet Factory franchise owner has been in business for more than 17 years.
"When we opened our business in 1992, we made a sale the very first day and we have been able to grow ever since. Since we started, we have helped over 70,000 people, and last year alone, we did 160 installations every month," says Closet Factory Franchisee Mark Lestikow. It is a great business; it is not a fad. There is a need for storage solutions that really help people, and we are so versatile in what we can do. There are so many opportunities to grow your business. The sky's the limit." 
Ready to open a Closet Factory Franchise?
Ready to learn more? You can learn a lot more about our proven business model and so much more by reviewing our research pages. And to get even more information, download our franchise report to start a conversation!